Marsh Optical devotes an exclusive area dedicated to children's and teen's eyewear. We never compromise quality and frame fit at the expense of frame fashion.

We understand the importance of choosing a frame that makes a personal statement. The choices of colors, shapes, detailing, names, lens treatment, and a diverse selection of frames is what helps create individual style.
We carry many collections of frames including Ray Ban, Little Diva, Scooby Doo, Pucci and many more.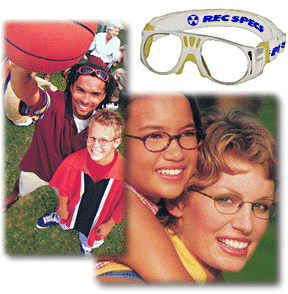 We have the ideal collection for today's kids. We carry many frames that visually appeal to kids without making them appear too childish -- They want to look grown-up, but you still want them to have fun.
We at Marsh Optical help guide you through your selection to find the perfect balance of fashion and function.
We combine what parents look for in their childrens' eyewear such as spring hinges, memory metals, warranty and price and what kids are looking for: color, shape and comfort.

We have a full line of Rec Specs, protective sports eyewear.
Looking good is important, but seeing well is more important. On staff is a doctor of optometry to assist your visual needs. According to the Betler Vision Institute, one in four children has a vision problem that could lead to learning and behavioral difficulties. That's why it is important to bring your children in for an annual eye exam. Also the dangers from over-exposure of blue light from digital screens is real. Learn more on how we can help combat this hazard.

Marsh Optical
180 - 12 Union Turnpike
Jamaica Estates, NY 11366
phone 718-380-5353
email info@marshoptical.com